PERFOMETR - Pełny opis w punktach pod przyciskiem START
PERFOMETR - Ząbkomierz - Perforation gauge - Zähnungsschlüssel - Odontomètre - Odontómetro - Odontometro - Зубцемі́р - Зубцаме́р - Зубцеме́р - Fogazatmérő - Tandingmeter - Zoubkoměr - Zúbkomer
pl
Ząbkomierz – przyrząd służący do mierzenia ząbkowania znaczków pocztowych.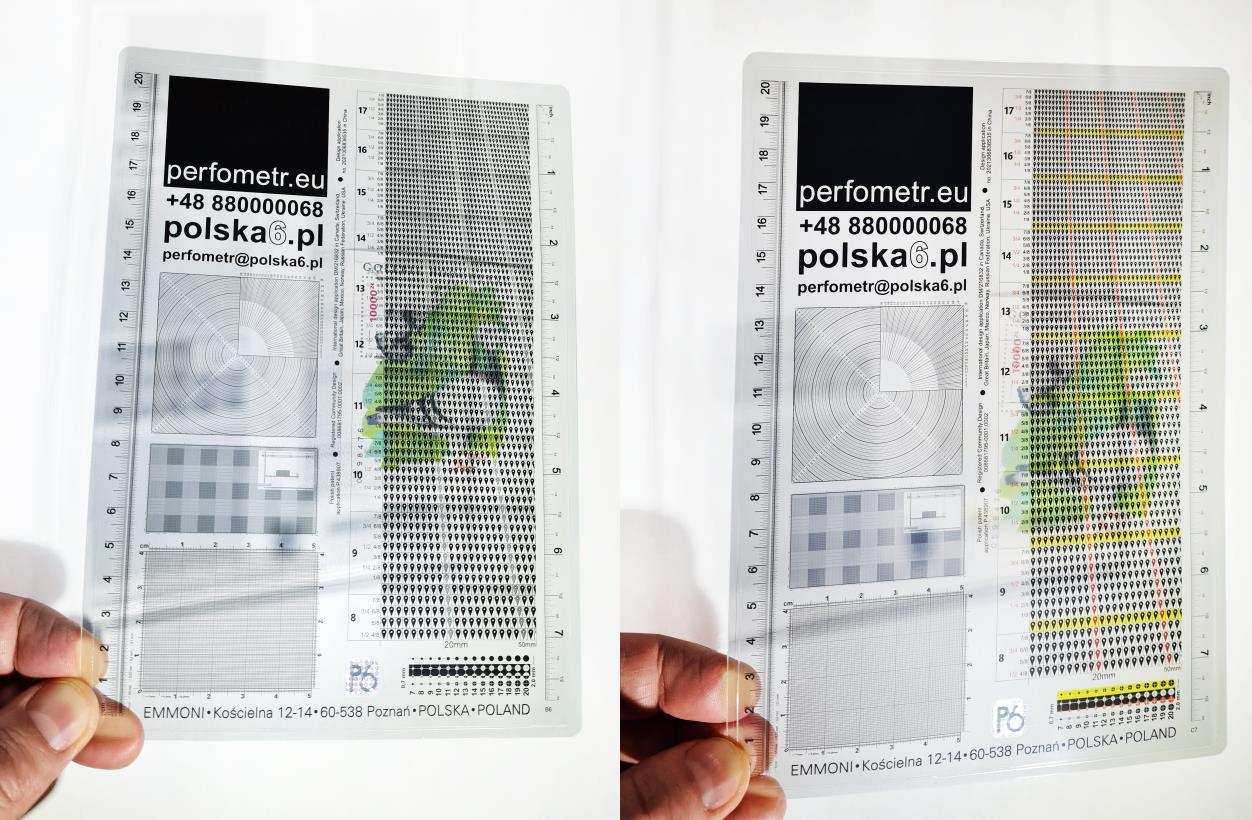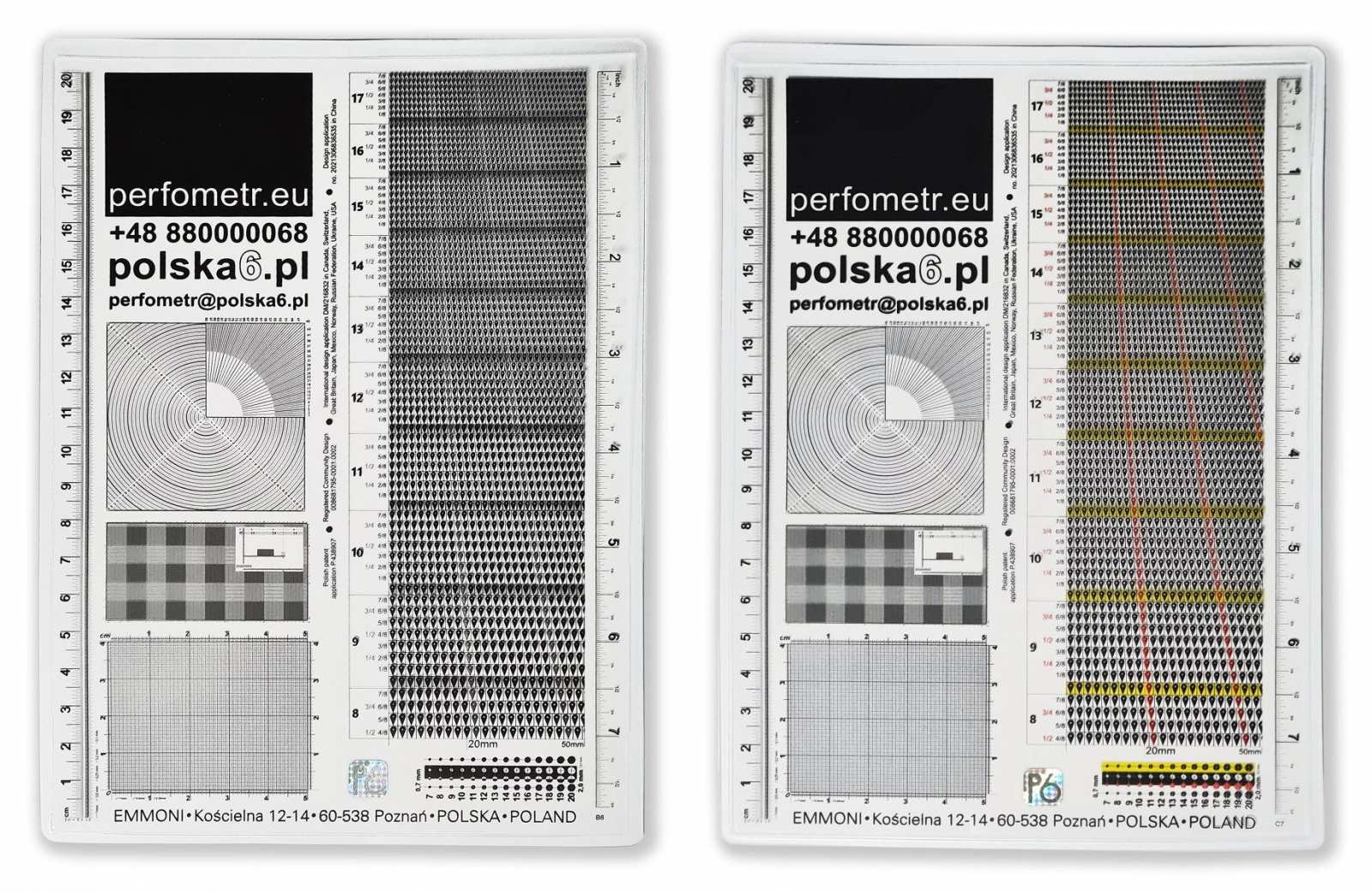 Rodzaje i techniki ząbkowania :
http://www.phila.pl/podstrony/ksiazka/099/094.htm
en
Perforation gauge
In philatelic terminology, perforation gauge has two meanings:
As a term for classification. The "perforation gauge" of a stamp specifies the number of perforation holes that appear in a two-centimeter span along its edge. The finest gauge ever used is 18 on stamps of the Malay States in the early 1950s, and the coarsest is 2, seen on the 1891 stamps of Bhopal. Modern stamp perforations tend to range from 11 to 14. Many stamps are produced with "compound perforations" i. e., the vertical and horizontal perforations will be of different gauges. Many U. S. stamps have been perforated 10½ x 11.
As the name for a philatelic tool used to measure perforations. Invented in 1866 by Jacques Legrand, the typical "perf gauge" (sometimes called an odontometer) is a metal or plastic tile on which perforations of gauges ranging from 7 and 7½ to 16 and 16½ are marked (the marks sometimes appear at the edges of the tile). The philatelist places each of these depictions beside a stamp until one is found that exactly matches the stamp's perforations. Such a gauge is an indispensable tool for identifying stamps that present identical images but have been issued with perforations of several different sizes. An extreme example is the U. S. Washington-Franklin Issues, some of which are found with perforations of gauges 8½, 10, 11, 12, and 12½.
https://en.wikipedia.org/wiki/Perforation_gauge
Jacques Legrand (philatelist)
https://en.wikipedia.org/wiki/Jacques_Legrand_
(philatelist)
be
Зубцаме́р — спецыяльная лінейка для вымярэння памеру зубцоўкі на паштовых марках
https://be.wikipedia.org/wiki/%D0%97%D1%83%D0%B1%D1%86%D0%B0%D0%BC%D0%B5%D1%80
de
Zähnungsschlüssel — Mit Hilfe eines Zähnungsschlüssels kann man die Zähnung einer Briefmarke bestimmen.
https://de.wikipedia.org/wiki/Z%C3%A4hnungsschl%C3%BCssel
es
El odontómetro — es un dispositivo que permite medir el dentado de los sellos postales
https://es.wikipedia.org/wiki/Odont%C3%B3metro
fr
Odontomètre — L'odontomètre est un instrument philatélique servant à mesurer la dentelure des timbres.
https://fr.wikipedia.org/wiki/Odontom%C3%A8tre
hu
Fogazatmérő — A fogazatmérő (idegen néven odontométer 'fogmérő') a bélyeggyűjtési kellékek egyike, ami a postabélyegek fogazatsűrűségének meghatározására használható.
https://hu.wikipedia.org/wiki/Fogazatm%C3%A9r%C5%91
it
Odontometro — L'odontometro è uno strumento graduato utilizzato nella filatelia per misurare la dentellatura dei francobolli, ossia la distanza tra i fori allineati lungo la linea di strappo.
https://it.wikipedia.org/wiki/Odontometro
nl
Tandingmeter — Een tandingmeter is een hulpmiddel om de tandingmaat van een postzegel (en ook van andere getande zegels) vast te stellen. Deze wordt uitgedrukt in het aantal tanden per 2 cm. De tanding horizontaal en verticaal is vaak verschillend.
https://nl.wikipedia.org/wiki/Tandingmeter
ru
Зубцеме́р — специальная линейка для измерения размера зубцовки на почтовых марках
https://ru.wikipedia.org/wiki/%D0%97%D1%83%D0%B1%D1%86%D0%B5%D0%BC%D0%B5%D1%80
uk
Зубцемі́р — спеціальна лінійка для відмірювання розміру зубцівки на поштових марках.
https://uk.wikipedia.org/wiki/%D0%97%D1%83%D0%B1%D1%86%D0%B5%D0%BC%D1%96%D1%80
PERFOMETR - Ząbkomierz - Perforation gauge - Zähnungsschlüssel - Odontomètre - Odontómetro - Odontometro - Зубцемі́р - Зубцаме́р - Зубцеме́р - Fogazatmérő - Tandingmeter - Zoubkoměr - Zúbkomer